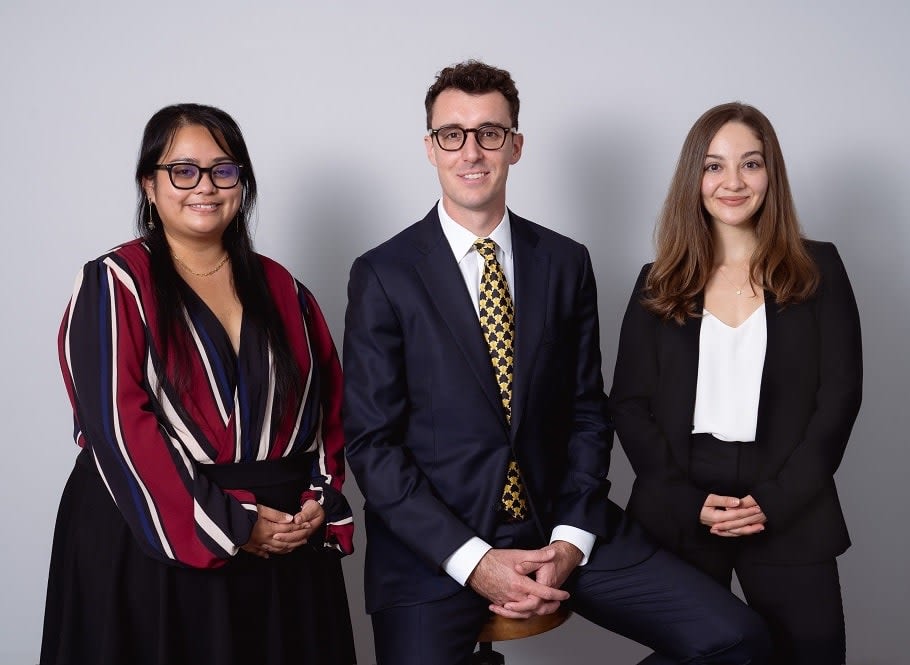 Bourhis Law Group is a highly-specialized long-term disability insurance law firm that focuses on bad faith disability insurance claim denials and underpayment of insurance claims. With the most successful track record of any disability insurance bad faith law firm, and a unique style of personalized attention to our clients, we have obtained more landmark verdicts and settlements on behalf of our clients than any other firm in the nation.
Offering exclusive representation to insurance policyholders throughout the United States, the hallmarks of our success have been zealous advocacy, professionalism, sympathy for our clients, and outstanding results. At BLG, we believe truth and fairness always prevail. With that mindset, we have won record-breaking, multi-million-dollar verdicts and settlements on behalf of our clients.
We Will Get You Maximum Compensation
We Are Available At All Times
No Legal Fees Paid Upfront
We Will Protect You At All Costs
"I was diagnosed with metastatic cancer and after several surgeries, extensive radiation, and medical management, my body was failing me in more ways than I can describe. I could no longer function in my profession the way I needed to. Fortunately, I had purchased a disability policy nearly twenty years earlier and had consistently made my payments month after month. What I didn't realize is how unapologetically cruel disability insurance companies could be. I was forced to submit paperwork over and over again with job descriptions, medical records, financial statements, tax returns, you name it. Repeated delays in processing and stalling tactics left me so despondent I didn't know what else to do. Fortunately, I discovered the Bourhis Law Group. Matthew Bourhis was sympathetic, kind, understanding and made me feel like an actual human being again. His character and professionalism are impeccable and his commitment to my case brought me out of a very dark hole. Matthew stood by me and represented me the way I deserved to be. I will be indebted to him for the rest of my life. If you require the services of an attorney specializing in disability and insurance, I can honestly say you need not search further."

CEO/Anesthesiologist
"Matthew Bourhis is easily the best attorney (and best professional) I have ever met; he handled my case with unrelenting energy from start to finish, extremely organized, always prepared. For the first time in years, I felt a sense of peace, relief, confidence, so much that I could "let go" and allow them to take over. Something that can't be overstated... during the process, Matthew found time to simply listen to me, be my "soundboard," and he learned my story, and became an authentic source of support that I came to count on. Despite the extraordinary complexity and granular elements of the case, Matthew ultimately settled it, allowing me to finally rebuild my
life. It's a rare thing to find people like this. My profound thanks to Matthew and BLG."

Neuroradiologist
"I am a physician, though I no longer practice. After many years working in the high stress environment of US healthcare, and the associated psychological stress from the many traumatic events we are required to experience daily and relive in perpetuity, my mental health was shattered. I tried to deny it for a long time and sought many routes for professional care and support, but ultimately without improvement. I was advised to leave practice for both my own well-being and that of my patients. Unfortunately, despite very clear-cut language in my disability insurance policy, I was nearly immediately denied claims. I recognized that the legal viewpoints of the insurance company were outside my area of expertise and I was fortunate to find Matthew Bourhis and his legal team. My experience with Matthew was ironically like that of having a good doctor; an excellent bedside manner, and someone who truly cared both about the repercussions of the case but also the personal stress that comes with leaving a career that is also part of your identity. Matthew is an excellent attorney, not just for caring about his clients but also because of his ethical approach and extensive knowledge and experience. I can say a return to clinical practice would have posed a risk to the wellbeing of my patients as well as myself, and I am only where I am today as a result of Matthew's support."

Emergency Room Physician
"Matthew inspired confidence, and most importantly, it was clear from the beginning and through the whole process that his concern was for our wellbeing and his advice was based on what would be beneficial to us given our unique situation and health limitations. He demonstrated the highest ethical standards. Matthew along with his team provided us with an expert, grounded assessment of the situation, communicated and explained legal procedures and strategies, patiently guided us though the entire process and provided an experienced perspective which greatly helped in decision making. We also interacted with Attorney Ritsa, who was detail oriented, efficient, intelligent and helped guide us through some key aspects of the case. Ann Marie was also very pleasant, organized and helpful. The Bourhis Law Group helped us stand up to a giant corporation and hold them accountable. It is unfortunate that we could not accomplish this without obtaining legal representation. This is a flaw in the system that needs to be addressed. However, we were fortunate to have attorneys on our side who were not only intelligent and competent but also ethical, kind, polite and considerate. Having them represent us, made a potentially unpleasant and difficult process relatively smooth and stress-free."

CEO/Periodontist
"I found Mr. Bourhis from a Google search, he was the second attorney I had retained for my Long Term Disability Policies, my claims had been denied. The first attorney I hired took my retainer and said there was nothing he could do. Mr. Bourhis on the other hand is very confident and knew what he was doing; he was knowledgeable about my injury. I would not have made it without the support of my disability income; I would not have made it through my current treatment and continued rehabilitation without Mr. Bourhis. I am very Grateful. Mr. Bourhis is more than an attorney, he listens to his clients and gives guidance, he is extraordinary."

Obstetrician Gynecologist

Female Pelvic Medicine & Reconstructive Surgery Specialist
"The experience was outstanding with the Bourhis Law Group, PC. I am very, very pleased. The professionalism, the attention to detail and the concern about my wellbeing and health were at the forefront of their process. The firm articulated the information in a way that I could understand. It simplified the process for me, which enabled me to remain patient during this difficult time."

Professional Basketball Coach & Trainer
"What the law firm did was changed my life. My previous lawyer messed things up by allowing deadlines to lapse. Mr. Bourhis put my case back together and got my life back. The settlement funds allowed me put my life in order. I could stop working in pain and invest my settlement, which set up my family for life. I cannot thank Mr. Bourhis enough."

OBGYN/Gynecological
"Despite years of requiring medical-legal work in the Sacramento Area, including plenty of attorney contacts, I ran into a brick wall when I needed help with my personal long term disability case. No one appeared to have clear expertise; there were a handful of dabblers. Mr. Bourhis took my call even while out of town! A plan was made, a few more phone calls and emails were exchanged, and within a few weeks the insurance company honored my claim. A good end to a very frustrating time."

Pulmonary Critical Care Physician
"Mr. Bourhis is a very skilled, sharp empathetic attorney. He knows his opponents and knows how to win. He firmly, but gently holds your hand going through the steps to make you whole. He is an amazing fellow, grab him if you can."

Vascular Surgeon
"Though dealing with insurance companies can be frustrating and take a lot of time, I always felt that the Bourhis Law Group, PC had my back. They are aggressive in going after what should be yours. The firm excels in dealing with insurance companies over disability cases. Because of the Bourhis Law Group, PC my future is much more certain and I can concentrate on my life, rather than dealing with my insurance company."

OBGYN
"I recently had the privilege of being represented by the Bourhis Law Group, PC, located in San Francisco. Their entire staff including the front office (Ann Marie) were compassionate, knowledgeable, available, but most importantly, they all handled my case with the upmost professionalism. I can not say enough kind words about this group and would recommend them to anyone. A+ from start to finish."

General Dentistry
Why Choose Bourhis Law Group?
We understand and care about what you are going through.
Your case will be handled by attorneys with in-depth knowledge about insurance law and an extremely successful track record.
We have won landmark verdicts and settlements that have changed disability insurance policyholder rights throughout the country.
We know all the tricks insurance companies use to deny and underpay legitimate disability insurance claims.
Although we are highly selective, we will listen to everyone's story and provide free case consultations.
Our disability insurance cases have been covered by 60 Minutes, Dateline, The Wallstreet Journal and other media outlets.
We have a fearsome reputation with every major disability insurance company, including Unum, Guardian, The Standard, MetLife, Principal, Great-West, Lincoln Financial Group, The Hartford, CIGNA, Northwestern, Voya, AIG, Mutual of Omaha, Prudential, RelianceStandard, and Lloyd's of London.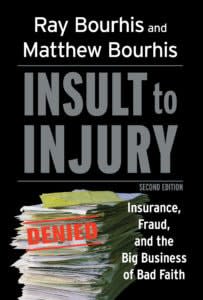 Insult to Injury: Insurance, Fraud and the Big Business of Bad Faith
We literally wrote the book on disability insurance bad faith. If you ever fought with a disability insurance company to receive your benefits, you probably know that the insurance industry is rife with fraud and corruption. This book tells the story of our biggest cases and the challenges lawyers, judges and politicians face in trying to repair the broken insurance industry.
The best Long Term Disability firm to handle medical professionals is Bourhis Law Group, PC